Yesterday a dear friend  from college asked me to write a piece for her cooking blog. She said that she was impressed by my writing, and she would love to see how I approach food writing because I was someone who was "very aware of the connections between food and psyche."
For a second, my head swelled. My friend is one of the best writers that I've ever known whose gift for words and language is astounding, and I love getting compliments from her. But then I felt it, overshadowing my delight, a feeling in the pit of my stomach: shame. Oh, right, I thought. She knows. That. 
She was referring to a time in my life that only my closest, oldest friends know much about. I've never lied about it, but I don't talk about it either. I tell myself it's because it just doesn't come up in conversations with anyone who has met me since I was in my early 20s, and that's true. In fact, I've had entire dating relationships of more than a year without having a conversation about it. That person that I once was — this other Jessica, at age 18, 19, or 20 — was in many ways a different person. Decades have gone by, and this Jessica feels further and further away, like a tiny speck in the horizon that I have to squint to see. But she's still there, and I'm ashamed — and a little afraid — of her.
When I was 18, I became an anorexic. I was not a typical candidate for anorexia in some ways, a perfect candidate in other ways. I was strong, thin, healthy, and proud of my body. (I remember beaming when my high school ballet teacher told me that I had the perfect, strong dancer's body.) I had a fast metabolism and was accustomed to eating anything that I wanted.
At girls boarding school, where I went for high school, eating disorders floated around in the air like a mysterious virus that some overachieving, anxious girls caught. Some girls ate like birds or didn't eat at all. I had one friend who fainted in the shower regularly because she hadn't eaten. Another girl whose shrinking into a skeleton could be watched day by day.
But mostly at that point I was puzzled. I didn't know what to say to girls who talked about how obese they were when they didn't have an ounce of fat on their entire bodies. I made it through this prep school world without changing my eating habits much or my own feelings about my body.
During orientation week at Wesleyan, I got a phone call from my family that changed my world. I'm not going to go into details, but my world was thrown into chaos. And I was alone and ashamed. I had never felt so utterly alone and confused. I couldn't talk about my family's crisis with my new college friends who barely knew me. I would sit in a phone booth far away from my dorm — yes, this was the early 1990s — and talk to my parents. Then I would sob.
Everything felt out of control, and I turned inward. I couldn't change anything about what was going on in my family's life — I was far away, powerless — and I wouldn't talk about it. I would stay  in control, perfect, no mistakes, just like always.  Soon, I discovered that the structures and routines that I always put in place to make sense of my world were not enough. I still felt like my world was in chaos. So I became more rigid, more controlling. And then I discovered that there were two things that I could control completely: how much I ate and my weight. No one could have any input; this was mine.
I know that there have been countless books written about women's relationship to food. I'm sure someone could have studied my case and made sense of it. I still don't get it. Somehow over the years I had learned that it was socially acceptable — desirable even? — for women to be obsessed with food. When my world spun out of control, I turned to that obsession as a coping device. I became immersed in a world of counting calories, counting exercise minutes. Instead of thinking about uncomfortable things and resolving my own feelings about my family or myself, I thought about calories.
And I went on this way for a couple years. I worried my family, my friends. But I would admit nothing. I excelled at college, straight As. This was my mantra: nothing was wrong. Finally, the summer after my sophomore year, I couldn't do it anymore. I was tired. I was weak. I weighed less than 100 pounds, having lost more than 30 pounds. And when my mom proposed that I should see starting "seeing someone," I relented, finally admitting that I wasn't "in control" anymore. It was the hardest decision of my life, but I let go. I wanted help.
It was a hard journey back to becoming "normal" again. But I did it. I had a lot of help, from books, from a therapist, from friends who listened to me cry and encouraged me day or night. During that summer of my sophomore year, late at night I made phone calls, sitting in the dark of the living room after my parents went to sleep. I confessed to my closest friends everything that I hadn't told them. With each phone call, I was lighter and freer, and that lightness had nothing to do with the weight on a scale. By the end of the summer, I felt so wrapped in love and acceptance that I knew everything would be okay.
Within a few years, food became what it was before: a source of nourishment and joy.
Looking back on my early adult years, anorexia is the best thing that happened to me. I know that sounds crazy, and I wouldn't wish that sort of pain on anyone. But for me it allowed me to become a better, freer, and less rigid version of myself. I opened up. I learned to let people in and give up control. I realized that it was okay that I wasn't perfect. In fact, my lack of perfection made me a better friend, a calmer person, and it brought me a renewed sense of freedom and possibility.
But it's still there, that shame, under my skin. I didn't want to be known — still don't — by a label, a quick shorthand for someone who has confronted mental illness. I wanted to be known as myself, not that girl who had anorexia, or the girl who once had an eating disorder.
But so much time has passed, and I realize that keeping silent isn't good for anyone. How many times have I heard new friends obsess constantly about their bodies? Or young, beautiful girls in my classroom say that they're fat? Or new moms who are so obsessed with losing baby weight that it takes away from the joy of their new baby? I want to say to them, "It's not worth it. Trust me. It's not worth losing any second of this precious life or your identity to worrying about an extra five or ten pounds. Don't flirt with entering that prison of weight obsession and denial." But I've always stayed silent, afraid to bring up my own long-ago battles.
I've always felt that weight is a Woman's Issue, in that big, important sense. How many young women's lives have been interrupted or their identities or dreams crushed because they get caught in a spiral of control and obsession?
Now maybe I'll start speaking up.
Thanks to my FTSF hosts: Stephanie, Kristi, Janine, and Kate.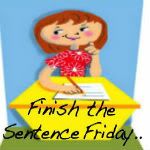 Related articles