If you're arriving from the More Than Mommies mixer, Welcome!
My blogging collaborator (Stephanie of Mommy, For Real) had a big week.  We started a whole new project about motherhood, friendship, and emotional support!  And a new motherhood survey!
Stephanie and I began the HerStories series seven weeks ago as an exploration of the complexity and richness of women's friendship. As the project evolved and grew, we were drawn to the an aspect of friendship — friendships formed and affected by motherhood — that kept repeating within our stories.
As mothers with young children, we began to think that we wanted to know more about why our friendships and relationships had changed in significant ways since we became new mothers. And we wanted to know if other women had similar experiences. Motherhood is such a powerful force in many women's lives, and we want to hear other women's stories of how new motherhood has affected their friendships, emotional lives, identities, and marriages.
Today we are introducing not only our new project, but our newly created website, The HerStories Project.
The HerStories Project will take a closer look at how women can find support during the challenging, life-changing, and often bewildering and wonderful first five years of motherhood. When a mother finally emerges from the baby fog of the fourth trimester, she may look around, bewildered, not recognizing her own life. After transitioning out of the survival mode that accompanies the newborn months, mothers often realize that their support system as they knew it is no longer adequate to meet their needs. A mother may feel isolated, guilty, and confused about how to define herself in the context of her new life. Modifying old relationships and seeking out new sources of support is not always easy, and it may feel like an impossible task during a particularly overwhelming stage of life.
We will be presenting a series of experts in a variety of fields, including sociologists, psychologists, sleep experts, and support group facilitators who will provide their knowledge and advice on establishing a support system to help cope with the transition to early motherhood. We will also continue to feature guest essays on women's friendship, with particular emphasis on friendship and motherhood.
One of the most exciting aspects of this project is that Jessica and I are in the process of creating a book proposal for our project.  We're calling it:  HerStories: Finding Support, Staying Sane, and Reinventing Yourself During New Motherhood. And we need your help! If you became a mother for the first time during the past five years, we are inviting you to take our survey about new motherhood. Your input and experiences will factor heavily into the material for both the website and our book proposal.
Here is a summary of our goals for The HerStories Project:
Seeking your valuable input through our New Motherhood Survey. Take the survey here and add your voice!
Consulting a variety of experts to bring you helpful and meaningful information about how to find support during this stage.
Sharing our own stories of motherhood and friendship
Featuring more powerful HerStories guest contributor essays
Creating a book proposal for our project:  HerStories: Finding Support, Staying Sane, and Reinventing Yourself During New Motherhood
We would love your support and participation in this project! Take the survey if applicable, and please continue to send us your fantastic essay submissions. We would love to have you follow The HerStories Project:
Subscribe to our blog updates via email: we will be posting friendship essays weekly as well as posts introducing our panel of experts. 

Follow HerStories on Facebook here
Follow us on Twitter @herstoriestales
You can follow our Pinterest boards, too: HerStories: Tales of Friendship and New Motherhood
We couldn't have gotten this far without you, so thank you very much for your support, encouragement, and beautiful essays! We hope you continue to be a part of this project!
Here are the "rules" for the More than Mommies Mixer:

(Don't make us post bouncers at the door.)
Follow your Hostesses – Christine and Janene from More Than Mommies

Follow our Co-Hostess – Stephanie at When Crazy Meets Exhaustion

Follow the Life of The Party – Melissa at Home on Deranged –  We will choose our Next LOTHP from those who link up their twitter handle. Use our hashtag #MTMmixer when tweeting so we can keep up with you there!  We would still TOTALLY appreciate a shout out on Twitter if you don't mind!

Follow our Mixologists – This week our Mixologist is Jessica at School of Smock – Every week we will choose one participant to get our party started at the #4 slot.  All you have to do is link up under the first Linky (and follow the "rules") to be considered!

Follow the person directly BEFORE you on the hop!  

Finally, we ask that you post one (or both!) of the following buttons in either a post or on your sidebar to let other people know where you are partying today!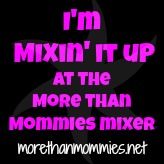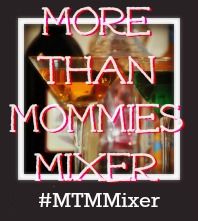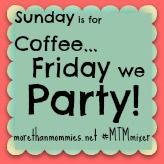 Enter your Blog URL here – for RSS, Bloglovin', etc. –
Powered by Linky Tools
Click here to enter your link and view this Linky Tools list…
Enter your Facebook Pages here –
Powered by Linky Tools
Click here to enter your link and view this Linky Tools list…
Enter your Twitter Handles here – 
Powered by Linky Tools
Click here to enter your link and view this Linky Tools list…
Enter your Pinterest Boards here –
Powered by Linky Tools
Click here to enter your link and view this Linky Tools list…
Enter your G+ Profile here –
Powered by Linky Tools
Click here to enter your link and view this Linky Tools list…